Lectura pentru dimineata de weekend
V-am neglijat ieri si saptamana trecuta, stiu – mea culpa, din motive de lipsa de timp: weekendul trecut diminetile mi-au fost ocupate de cursul de stil, ieri dimineata de o discutie/ prezentare despre tendinte. Pentru cine nu s-a putut trezi sambata dimineata, ma mai puteti prinde discutand despre moda miercuri, 20, de la 6 jumatate seara, in Orange Concept Store.
Astazi insa m-am trezit cu pofta de citit, de plimbat si citit in parc, de muzica din anii '80, de soare, de miros de liliac si de paine prajita.  Azi imi scot la plimbare sandalele, fustele maxi din tricot, bulinele si florile, geaca de jeansi; azi imi schimb muzica de pe iPod, azi incep o carte noua…
Btw, azi inca mai prindeti Bookland in AFI Cotroceni, Autor 5 la Sala Dalles pana la ora 8 seara si la MTR este Targul de Florii. Si uite cum s-au legat lucrurile, pentru ca asa reusesc sa spun un "la multi ani!" florilor cu nume de flori 😉 Sa fiti bune si frumoase, sa fiti colorate, sa va deschideti corolele pentru si in lume, sa ramaneti flori si sa nu va transformati in buruieni, no matter what… and this goes out to Florentine si Florine, Margarete, Liliane, Viorici si Viorele, Crengute (in special o Crenguta speciala!), Crine, Camelii, Delii, Lacramioare, Narcise, Sanziane…
Ok, iar acum linkurile zilei, mai multe ca de obicei…
Westwood: from outsider to subversive insider – "This coming week marks 30 years since Vivienne Westwood and Malcolm McLaren's 'pirate' collection stormed the runway in London with a blaze of sunshine colours and ethnic prints. The show was Westwood's first swagger on to the catwalk, forging a sophisticated post-punk aesthetic with a billowing new romantic silhouette." In Financial Times.
Spring theater of absurd – "Fashion is many things: beautiful, frivolous, devout, serious – sometimes all at once. It is performance and craft, in whatever style." In On the runway.
Fabric of Italian life – "The zeitgeist of Italian manufacturing is perhaps best captured in the 2009 film "I Am Love." While based on fictional characters, the film has a very real-life counterpart in the Castellini family, owners of luxury textile firm C&C Milano." In WSJ.
Erdem on his floral obsession, Tilda, H&M and Kate – "There's no question that fashion and technology are growing ever closer by the day, but Canadian-British-Turkish designer Erdem Moralioglu takes the concept of digital design a step further than most." In Fashionista.
Mini-bags – "I used to think that mini-bags were the sartorial equivalent of tiny lap-dogs: expensive accessories for Eurotrash it-girls and socialites. For if our emotional baggage is already a sufficiently heavy burden, why add to the load with an excess of physical luggage?" In The Telegraph.
Gap seeks to freshen itself as people's brand – "Remember when Gap advertising was entertaining and effective… Yes, and remember the Clinton presidency? It may be an exaggeration that the Gap division of Gap Inc. has had no outstanding marketing since the 1990s. But Gap has been struggling for years to figure out how to attract younger consumers as well as win back those who have stopped shopping there." In NY Times.
For Kors, the glow doesn't fade -"IF 80 percent of success is showing up, to quote poor Woody Allen yet again, then maybe the other 20 percent is sticking around? Consider the designer Michael Kors, who recently commemorated 30 consistent if not generally spine-tingling years in the fashion industry". In NY Times.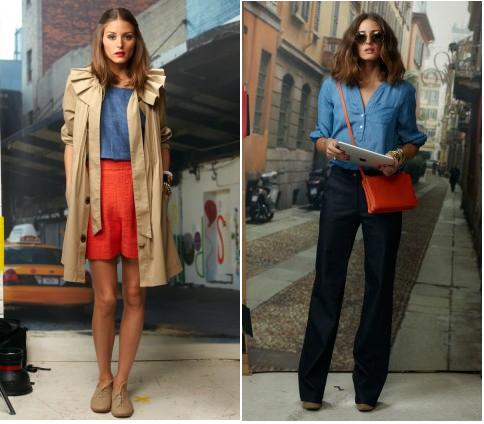 Must haves for spring – "There's nothing really "must have" about fashion or style. Where clothes are concerned, "must haves" really are for children in third-world countries or for the Libyan refugees streaming across the Egyptian and Tunisian borders, without any of their worldly belongings." In WSJ.
Hussein Chalayan: the surreal thing – "When a designer such as Hussein Chalayan bases his collection on Japan it's safe to presume that his interpretation will be far from literal: no opulent silk obi sashes tying flat-cut voluminous garments here." In The Independent.
Designers face uphill battle – "Knock offs are nothing new, but the Proenza Schouler bag situation hit a nerve — after all, the design duo has a history of partnering with Target. If they aren't off limits, who is?" In Thread NY.
A mannequin in very way – Mr. Sundsbo, a photographer known for a style of digitally manipulated imagery that could be described as a modern mannerism, had been asked to document the designs that will be in the McQueen retrospective at the Metropolitan Museum of Art for an accompanying catalog, "Alexander McQueen: Savage Beauty." In NY Times.
Mugler's digital world – "'My job was to resurrect the brand, and to pump it up and bring it to the new decade… I had this amazing history and archive but there was nothing for me to work with to make it contemporary. For me, it was taking those amazing historical ideas and transforming them digitally. I design digitally, I communicate digitally, and I live digitally, and I wanted to incorporate that into the brand.'" In WWD.
Fragrance spritzers hold their fire – "Fragrance demonstrators go back at least to the 1950s, when women were just starting to buy fragrances for themselves; previously, men gave gifts of fragrance and flowers, said Stephan Kanlian, the chairman of the master's program in cosmetics and fragrance marketing at the FIT. The novelty of spritzers effectively enticed women to stray from their signature scent to buy something new." In NY Times.
Rent the Runway targets students – "Renttherunway.com buys designer clothes wholesale and rents them out, charging between $50 and $200 for two days. That may not sound cheap for a rental, but these are current and recent-season dresses that mostly cost between $400 and $2,000 at retail." In WSJ.
Ten minutes with Carven designer Guillame Henry – "If you have not heard of Guillaume Henry or Carven – it won't be that way for long. The ex- Givenchy and Paule Ka designer moved to the storied French house two years ago to breathe new life into the brand, and has since been causing quite a stir." In The Telegraph.
At V&A Museum, muses let their hair down – "The hair is a mass of russet curls, the face pale and translucent, the lips sultry. Add a peacock feather fan or a pomegranate tapestry and you have the quintessential heroine of the Aesthetic Movement. " In International Herald Tribune.
Going bananas for citrus colors – "What is indisputable is that color is everywhere from long skirts in orange or fuschia pink from the cheap-and-cheerful Zara chain to contrasting jackets and skirts from high-fashion labels like Gucci. Color blocks can also make a modernist statement, as in the great sweeps of cloth at Jil Sander." In NY Times.
Jacket (not) required – "As dining rooms fill with T-shirt- and Converse-clad social networkers, is dressing up the new way to stand out?" In WSJ.
The 3 graces of Hearst – "Later this summer, once the deal is closed and Elle is fully absorbed into the Hearst family, editor in chief Robbie Myers will join Harper's Bazaar editor in chief Glenda Bailey and Marie Claire's Joanna Coles under the same roof, creating a fashion magazine troika." In WWD.
Why is this man smiling? – "Mr. Hsieh's success has been built in part on his ability to anatomize the way people crave connections with others, and turn those insights into a business plan… Zappos is able to pay below market salaries for its more senior workers… Recruiters boast that it is harder to get a job at Zappos than to get admitted to Harvard." In NY Times.
Alexander McQueen's haunting world – "He'd never analyze what made sense or not. It was personal and emotional, and he never wanted to water it down.' The stagecraft and technical wizardry showed off McQueen's capabilities as a designer. He was a skilled tailor who could also drape a glorious gown without benefit of a pattern. And his personal story… made him a dangerous and magnetic presence." In Newsweek.
Fast fashion: is the party over? – "Following on from H&M's shock results in the final quarter of 2010 which saw profits fall 11 per cent, fashion comparison website Stylecompare.co.uk has today reported that year-on-year sales of 'low end' retailers fell by 21 per cent, as consumers flock to 'mid range' and eco brands for their fashion fixes." In The Telegraph.
The relaunch of Made in France – "Local manufacturing is rediscovering its mark of prestige with customers placing orders who today can see the advantages and flexibility that they can obtain with Made in France and the added value in terms of image and even ethics with French customers." In Fashion United.