Lectura de sambata dimineata
Astazi va invit la o altfel de lectura. Cititi Esquire-ul acestei veri. Nu ca sa va invatati iubitul cum sa se imbrace (desi o gasiti cateva idei interesante si sexy), ci pentru voi. Veti iesi din sfera articolelor pline de sensibilitate artistica si vizualuri romantice, veti invata despre vacantele unor barbati stilati, despre palariile de Panama si stilul safari, despre nuante masculine de albastru (albastru Yale, glaciar, Klein), despre raliul Serenissima Run organizat de Louis Vuitton, si chiar cateva articole despre noutati din vitrina stilului masculin local.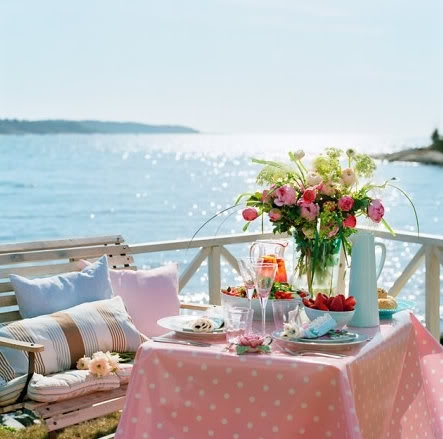 Iar apoi va puteti intoarce la recomandarile obisnuite de lectura, cu o cafea sau o limonada rece…
Schiap's house reborn – "The mover and shaker behind the rebirth of the house of Schiaparelli is Diego Della Valle of Tod's, who has created a buzz about the brand without a single product being laid out on the 1940s-style table or reflected in the gilded mirrors that once belonged to Schiap's admirer, Yves Saint Laurent." In NY Times.
Haute potato: Paris Couture report – "What is couture's place in socialist France? The answer, from the industry, is two-fold. First, take a look at the front row: most of couture's clients are neither French nor even western European.  Second: this isn't indulgence, it's the preservation and continuation of a French tradition of craftsmanship and savoir-faire, part of this country's patrimoine, and as such, should be valued like any art form." In Financial Times.
Inside the limo with Anna dello Russo – "Anna Dello Russo is a veteran Italian fashion editor who has become an internet superstar thanks to her exhibitionist penchant for classic high-fashion and extreme hats." In The Telegraph.
Vintage for today? – "'New vintage — for today,' said Mr. Lagerfeld, referring to a flow of high-waisted, wide pants that might have come from hazy photographs of a mademoiselle in Deauville but were, in fact, invented in one of the designer's gouache drawings" In International Herald Tribune.

Luxury must become interactive to survive – "At first, luxury and technology don't seem to be natural bedfellows. Luxe is defined by exclusivity, whereas tech is invariably mass market — and although it doesn't always want to be seen, it still needs to have its output firmly felt." In Wired.
It's a man's world at Mr. Porter – "We wanted a website where men felt very comfortable; a man's world where nothing feels like a hard sell. With women you can say, this is the handbag of the season – and they love it. Men prefer a softer sell." In The National.
Couture is seeding itself – "Discreetly, almost imperceptibly, haute couture has re-seeded itself, without any artificial insemination. Across the fashion world, houses built on ready-to-wear are exploring the possibilities of, or just quietly joining, the universe of high fashion." In International Herald Tribune.
Reeinventing the heel – "Forget the stiletto, the wedge or the stacked heel: this season's shoes are supported by dancing figurines, upturned lipstick tubes and even butterfly wings. There is fun to be had blurring the lines between art and fashion." In Financial Times.
The Czarinas are back – ""According to a Style.com assessment of the Russian Fashion Pack, as they are sometimes called, no one on the show circuit, with the exception of Anna Dello Russo, 'changes outfits more often or with more look-at-me enthusiasm than this group of designers, bloggers and scenemakers.'" In NY Times.
All the world's a stage – "If all the world's a stage, the Milan designers found a way to put simple, modern clothes into different contexts. And Brioni, since it was bought by the PPR luxury group, has burnished its offerings and apparently lowered the age range." In International Herald Tribune.
PS: mai puteti participa astazi la concursul Diva Charms, castigatoarea va fi aleasa si anuntata maine!